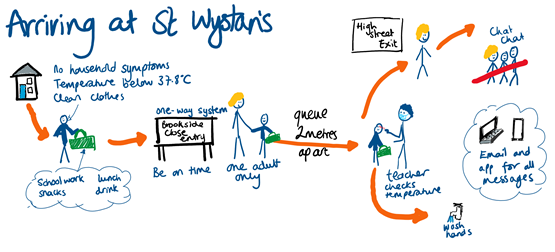 We have had a fantastic response from the St Wystan's community with the remote learning provisions provided by our staff members. This is fantastic to hear, as they all put so much effort into creating these and at such short notice. It has been great to see how the children have adapted to their changed surroundings and the amazing work they have created whilst at home. We hope you have all managed to catch a glimpse of this across our social media platforms.
In line with government advice, we are now delighted to be welcoming back some of pupils for the second half of the summer term. We are planning a phased return for children in Year as of Monday 1st June and Nursery children to begin back on Wednesday 17th June. This has allowed us to implement an orderly return, in the safest manner possible.
For those of you that are returning to school, please follow the new guidelines and school rules. These are outlined in the video, as well as the documents which can be downloaded below.
We also continue to provide education for those children who are part of families with key workers.
It is a shame that we cannot welcome back all of our St Wystan's pupils, but we continue to follow government guidelines, as well as understanding what is best for our families. We continue to provide remote learning for those pupils from Kindergarten to Year 5 and we look forward to celebrating the end of this academic year in an innovative, fun and virtual way!