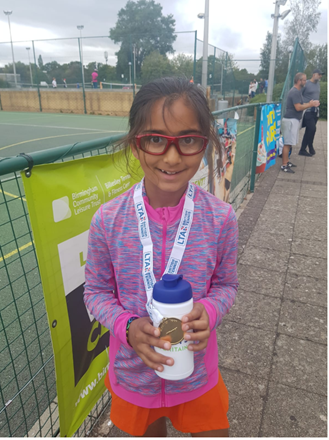 St Wystan's tennis star, Eisha has been on a role again! This time she has added to her achievements in another sport! In August, she won the six counties golf tournament at Trent Lock, where there were 39 entrants!
That is not all! She has achieved fantastic record of results throughout the summer and into the autumn season. So much so, that she is now playing up an age group in the U10's. Here are the list of Eisha's results:
August: Winner of U9 Girls Singles Derbyshire County Championships, Runner Up U10 Girls Single, Runner Up U9 Boys Singles & Runner Up in mix doubles.
September:  Winner of the U10 mixed North Winter County Tour at Robin Park in Wigan, Lancashire
Winner of the U10 mixed Midlands Winter County Tour at Billesley Tennis Centre, Birmingham
Runner Up in the U10 mixed North Winter County Tour, Leeds
October: Winner of the U10 mixed North Winter County Tour, Leeds
Runner Up in David Lloyd Manchester North October Open 2019, lost a close match in the finals.
Winner of the U10 Birchwood Junior Competition, Warrington, Cheshire.  Her very first Grade 3 win in Green U10.
Runner Up at the U10's Graves Winter Grade 3 tournament, Sheffield, South Yorkshire.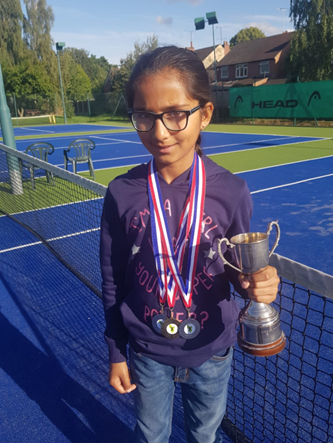 November: Winner of the Girls Grade 3 U10's Winter Regional Tour, Nottingham Trent University.
This result means that Eisha progresses through to the National stages in Sunderland at the end of November. A fantastic result and by far the most important win for her!
We are so proud of Eisha, what she has achieved and all of the hard-work she puts into her sporting passions and dedication to school work as well. She is extremely committed and this shows with the results she is achieving.
We here Wimbledon calling!